After a day out shopping I am bursting for a massive pee. I am knocking anxiously at your door. I am holding it since so long and I am so full… feeling like I can not hold it anymore.
Door opens and I rush into the room taking my coat off quickly and running straight to the bathroom as I can't hold my pee anymore.
You are lying on the bathroom floor, wearing just your boxer short, blindfolded with your head near the toilet.
I want to pee sooo much that I am not even noticing you.
I put the light on and I rush to take my shoes off, saying: "Ahhh fuck, I need to pee so much!", then I rush to pull my tight jeans off shouting: "I want to piss, fuck! I want to piss so much!" I am trying to take my knickers off, but as I am so bursting for it, I rush to sit just on the side of the toilet… but I didn't even had time to open it properly… and so I manage to piss everywhere and all over you… with my knickers lowered on my ankles.
I do a massive squirt of pee saying with a big relive: "Of fuck that feels so good!" I remove my cotton knickers from around my ankles and I wipe my wet pussy with it, I wipe the toilet seat, my legs and some of the pee on the floor near my feet.
As I finish cleaning my all over squirting pee, I throw my soaking wet knickers on your face, and I go to wash my hands.
I leave the bathroom, switching the light of like nothing happened, like you weren't there.
Scenario No. 1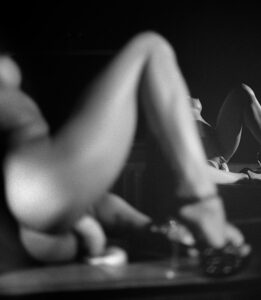 After 5 minutes I come back in the bathroom, bringing a dildo and some lube. I hold my dildo on the closed toilet, put some lube all over it, and I start riding it, moaning while pleasuring myself.
As I am fucking my dildo I notice that your cock is getting hard, and that makes me super horny! I get up to, remove your boxer short and put some lube on your balls and cock. I am in a squatting position with my pussy just above your cock.
I start touching your balls and stroke you slowly until I make you come all over my open pussy. I spread your warm come all over my pussy with my wet fingers, I remove your blindfold and shove my messy pussy right on your face rubbing it all over to make you feel very dirty. Your face is all messy, but you are not allowed to lick me clean. I am wiping my pussy on your face for a while. I stand up abruptly, and looking down at you I tell you: "Don't come out until you and this bathroom is clean!".
You clean the bathroom and take a long shower before you come out.
Meanwhile I am getting ready for you. I wear red high heels, sheer black stockings and a corselette dress. As you walk into the bedroom you see me waiting for you on my hands and knees on the sofa with no knickers on so you can see my arse and my open pussy… I am waiting for you to fuck me as soon as you walk in. You spit on my arse, lick your spit, lick my pussy very slowly, put a black latex condom on and finally you are able to fuck me!
Scenario No. 2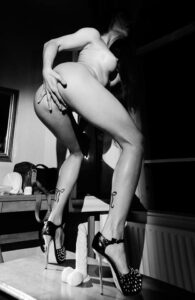 I was shopping all day holding a massive pee for hours. I feel so relieve now that I have squirted it all out! I couldn't care about where I am peeing… It feels so good now…  Time to open my shopping bags and chose to put on an Agent Provocateur lingerie outfit and red high heels. I start with my back seam stockings rolling them up all the way to my thighs and attaching them to my high waist suspender belt. I do it elegant with gently moves, slowly, caressing my long sexy legs. I turn my eyes over my naked shoulder and I see you. You had to clean yourself after you have been soaked in my golden shower. You removed your blindfold.
You enjoy what you see so you cannot interrupt my routine. I notice your cock coming out through your open bathrobe. Is getting hard and that makes me super horny! I cannot resist to your big compliment therefore you got all my attention. I am so turned on by seeing you slowly rubbing your hard cock. You like that naughty playful look into my eyes. I touch myself watching you as you get more and more excited.  You stay there and watch me. You don't dare interrupting me, taking any step forward. I smile, I come towards you in a sexy feline walk on all fours. I tie your hands back so you cannot touch me. I put your blindfold back on.
You feel my warm breath close and anticipate my warm open mouth on you. My sensual lips are so close to your cock. I am getting my lips wet while and slowly I bite my lower lip.
I pass my fingertips slowly contouring your full of cum balls. I spit on your cock tip and wrap my lips around your warm throbbing cock while tasting your pre-cum. I suck your cock slow and I go deeper and deeper as my throat is getting wetter and wider.
Meanwhile my fingers are exploring your whole body: from your balls, to your thighs and up twisting gently your hard nipples.
I feel you getting so hard and horny, so close… I stop my blowjob every time you are about to fill my mouth with your warm cum.
I know that it has been 10 days since you were saving it for me. That thought makes me want to tease more and slowly. You are bursting to come! Your cock is dripping wet I love passing my nipples into it and then give you a taste of your sweet mess.
My tong is playing with swirls of spit around your cock tip. My hand is grabbing your full balls pulling them slowly and have them both in my mouth. I spit some more and taste it deep sucking you slowly. I know you love it sloppy. My tong explore your balls all the way up to the tip of your bursting cock… I feel you close so I stop again…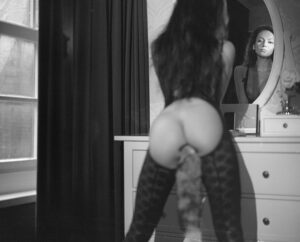 I pull you down to lay on the floor. Then I take my knickers of and lower myself with my pussy just above your face in a squatting position. I hold your head so I can slowly tap my wet pussy on your face. I shove it all over your face so you can taste me and slip your tongue right inside of my pussy and lick my ass. Ahhh!, I feel you getting to horny from tasting me so I stand up a bit…  just enough to feel you craving to lick me some more.
I kneel just above your face to gently rub my wet clitoris while you are tong fucking my pussy. I make myself come this way. You are so sloppy! I love using you as my sex toy!
I go between your legs and start licking and sucking on your balls. On your cock I am just spitting to make it very messy and sloppy.
I want to give you a taste of your own pre-cum. I am soaking my pussy lips and ass all over your sloppy dripping cock and go back to wipe it on your face.
Your cock is dripping wet by now.
I pass your soaking wet cock again all around my pussy lips and bring it to your open mouth to make you taste some more of your excitement. I get back on my squatting position with my pussy just above your cock. I start touching your balls and stroke you slowly until I make you come all over my open pussy lips. I spread your warm come and taste my fingers. I shove my messy pussy right on your face to lick me clean.